Affordable, Easy Sacramento Tree Care Services
Sacramento is one of the most tree friendly cities in the world, and it's even commonly referred to as the tree capitol of the world. With many government and city sponsored programs promoting the planting of trees, it's no wonder that Sacramento has garnered the nickname "the city of trees". Due to the large number and different types of trees throughout the city, the need for tree care service is among the highest in the United States, which is why there are so many tree service companies in the area. Proper tree care is essential and Sacramento tree care professionals use techniques to keep your trees looking their best, and ensuring a long life-span.
Without regular tree service in Sacramento, Rancho Cordova, Davis and Roseville, Elk Grove, or Folsom you may find that your trees or shrubs can show changes in growth patterns, unusual leaf loss, show signs of insect damage, areas of decay and disease. Only experienced pros with years of experience in the Sacramento area can diagnose and treat these issues. It's important to connect with a local company that has relevant experience with your specific needs, and it's highly advised to steer clear of the cheapest new company on the block.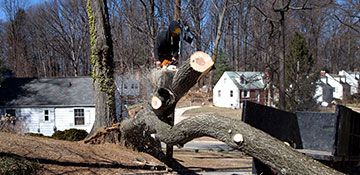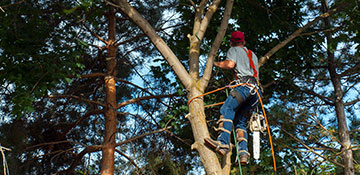 Tree Removal in Sacramento, CA
While it's often the goal to save trees, sometimes you have no other option but to remove them. Here at CVS Home we've researched local companies that excel in tree removal in Sacramento, Citrus Heights, Folsom and the surrounding areas so you don't have to do the research yourself. The companies that we connect you with all have long lists of satisfied customers, years of experience, and offer fair priced services. It's advised that you schedule tree removal ahead of time, but same day emergency tree removal is often available (unless there's a large storm and companies are too busy). One thing that you need to be aware of is that Sacramento has certain rules and regulations that may apply to your tree, which you can check out here. If you need a permit, the company that you hire will usually take care of this for you, although it may add a few dollars to the cost of the job.
Keeping Sacramento Tree Removal Costs Down
While at first look, removing a tree in Sacramento may look expensive, it's important to keep in mind that this is very dangerous work and it's highly discouraged for you to try to do it yourself. Even the simple task of removing a branch or two can turn ugly quickly if you don't have proper safety training or the right equipment, so it's better to play it safe and leave this job to the pros.
The bottom line is that Sacramento tree removal isn't cheap, but there are some steps that we can take to make sure we are getting the best price. Here's a few things to help you keep costs down:
Know how much it usually costs - it costs around $330 to $440 to remove a 40 ft pine tree and up to $1,350 for an 80 foot one. Oak tree removal in Sacramento costs between $350 to $945. Palm tree removal costs around $199 to $499 for smaller ones that are less than 30 feet, but can cost more than $999 for palms taller than 80 ft.
Work with proven companies - the cheapest quote may look good on paper, but if they don't do a good job or aren't licensed and insured, it can end up costing way more and lead to a ton of headaches.
Get multiple bids - it's important to compare quotes from a few of the different companies in your area to ensure that you get the best rate. Companies will often match or beat their competition.
**Tree removal costs in Sacramento, Elk Grove, Roseville and the surrounding areas vary greatly depending on tree height and size as well as the location of the tree itself. Jobs where there are power or electrical lines will cost substantially more, as well as jobs where the tree has already fallen
Additional Removal & Trimming Services
Your tree care needs will vary based on the season, species of tree, and how old they are. Sacramento has some of the best arborists in the world, which is one of the reasons it has the most trees per capita. Here's just a few of the services offered:
Tree Trimming - crown cleaning, crown thinning, crown raising, and crown reduction.
Tree Pruning
Tree Planting
Stump Removal
Stump Grinding
Questions to ask your local Sacramento tree service provider
Here are a few questions that you should ask before choosing a company.
Does Insurance Cover the Cost of Tree Removal?
In some cases depending on your homeowner's insurance, the removal costs may be covered. This is more often the case if the tree presents a danger, or it has already fallen.
What Happens to the Stump When I Have a Tree Removed?
Stump removal is often priced separately from tree removal. Often times with the case of large tree removal, you must pay extra to dispose of the tree. One option is to pay them to chop it into firewood that you can use.
Can I Just Remove the Tree Myself?
As we stated before, while it may be possible to remove it yourself, it is very dangerous to an untrained person. Arborists, especially in the Sacramento area, have years of experience working on trees in the area, extensive training and the best equipment.
Are You Insured?
It's important that you only work with companies that are fully licensed and insured. You may be liable if someone gets injured on your property, which is why it's important that they have insurance.